Registration for the Weekly Program will be open on February 26th at 10:00am.
2018 Weekly Program Registration Portal

The 2018 Weekly Program registration will only be available online.
If you did not participate in 2017 and wish to this season, please email Tyler at tmalo@rigalinks.org

The Weekly Program is open to all men and women who are members of the RIGA.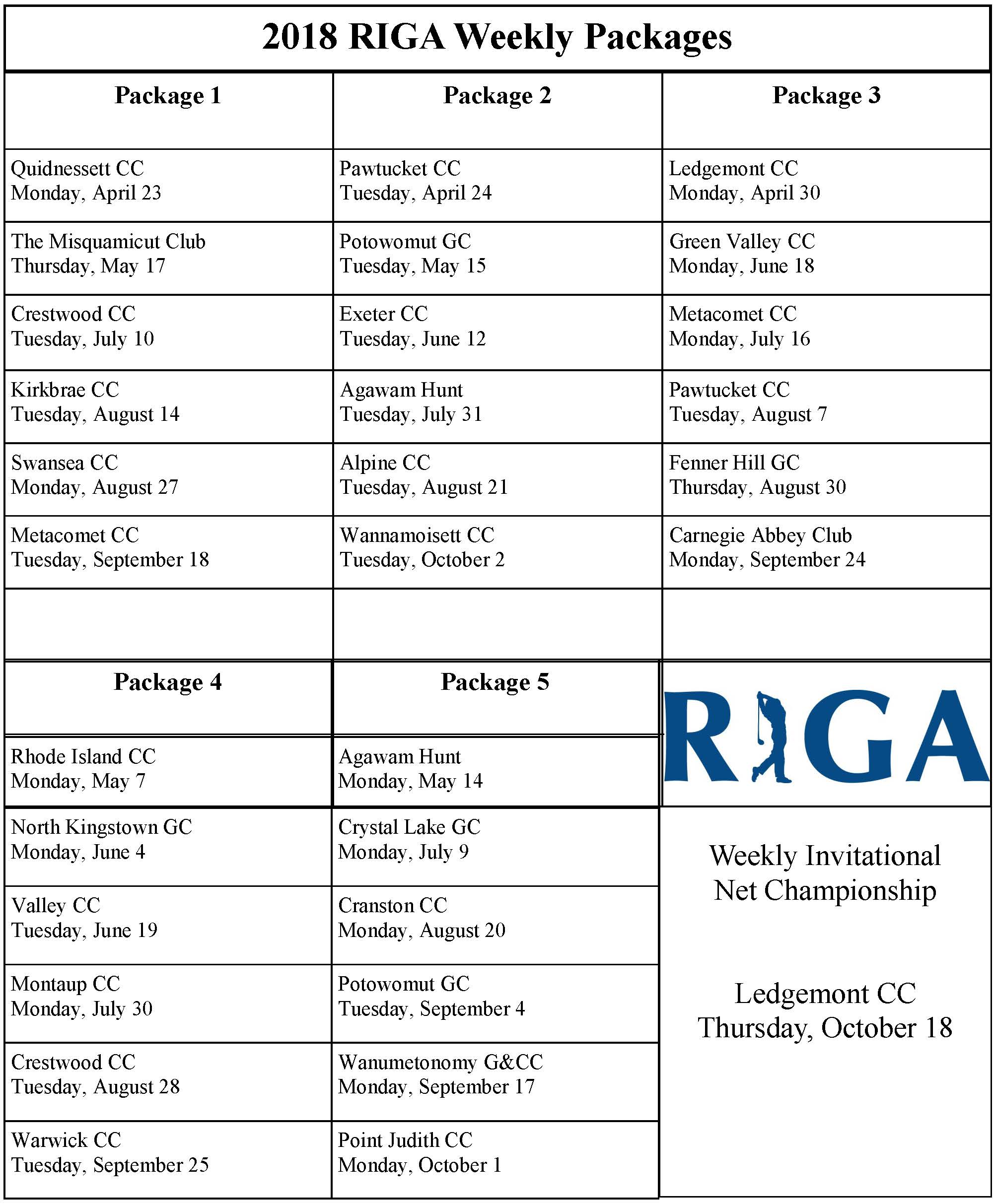 2018 Weekly Invitational Program
Package 1 - Scoring

Quidnessett CC - Monday, April 23
The Misquamicut Club - Thursday, May 17
Crestwood CC - Tuesday, July 10
Kirkbrae CC - Tuesday, August 14
Swansea CC - Monday, August 27
Metacomet CC - Tuesday, September 18


Package 2 - Scoring

Pawtucket CC - Tuesday, April 24
Potowomut GC - Tuesday, May 15
Exeter CC - Tuesday, June 12
Agawam Hunt - Tuesday, July 31
Alpine CC - Tuesday, August 21
Wannamoisett CC - Tuesday, October 2


Package 3 - Scoring

Ledgemont CC - Monday, April 30
Green Valley CC - Monday, June 18
Metacomet CC - Monday, July 16
Pawtucket CC - Tuesday, August 7
Fenner Hill GC - Thursday, August 30
Carnegie Abbey Club - Monday, September 24


Package 4 - Scoring

Rhode Island CC - Monday, May 7
North Kingstown GC - Monday, June 4
Valley CC - Tuesday, June 19
Montaup CC - Monday, July 30
Crestwood CC - Tuesday, August 28
Warwick CC - Tuesday, September 25


Package 5 - Scoring

Agawam Hunt - Monday, May 14
Crystal Lake GC - Monday, July 9
Cranston CC - Monday, August 20
Potowomut GC - Tuesday, September 4
Wanumetonomy G&CC - Monday, September 17
Point Judith CC- Monday, October 1