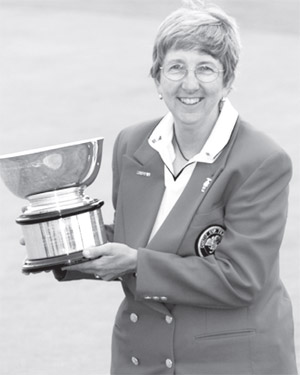 Rhode Island has been extremely fortunate through the years in having great players move to the state and boost the local golf scene. Martha Kirouac is one of the special ones on that list.
The California native was a major star before moving here. As Martha Wilkinson, she won the Women's Intercollegiate Championship in 1967 and the U.S. Women's Amateur Championship in 1970. She moved to Rhode Island in 1972, the year she represented the United States on the Curtis Cup team for the second time.
She immediately began piling up championships representing Rhode Island Country Club. She won the R.I. Women's Golf Association Championship in 1974, '75, and '77 and the New England Women's Amateur in 1975. She and her husband, Bob, won the State Mixed in 1974, '76, '80 and '82 before moving to Georgia. She subsequently won the 1986 Georgia Women's Amateur Championship and the 1990 Women's Southern Amateur. She also returned to Rhode Island in 1987 to play in the U.S. Women's Amateur Championship at RICC, qualifying for match play and reaching the round of 16.
Kirouac has remained actively involved in the game on all levels. She is the senior director of course rating/member services of the Georgia State Golf Association and a member of the USGA's Women's Committee. She was captain of the United States Curtis Cup team in 2004.
She also is one of only eight players - JoAnne Carner, another of Rhode Island's great imports is another - to have won both the U.S. Women's Amateur and the Trans-Mississippi Amateur.
Martha was inducted into the Georgia State Golf Hall of Fame in 2006. Today, she lives in Norcross, Georgia, and is a member of the Atlanta Athletic Club Hall of Fame.