By Joe McDonald
RIGA Senior Writer
PORTSMOUTH – Less than a week after Montaup Country Club hosted the 118th Rhode Island Amateur Championship, superintendent Bill Coulter is still receiving compliments.
He deserves all the accolades because the 100-year-old course is in phenomenal condition and nearly every competitor admitted as much. Coulter normally has a 12-person crew, but he called in a few reinforcements for the State Amateur, including a couple of retirees.
"I'm getting a lot of compliments from members. I'm getting to the point I'm nervous because I haven't heard a complaint in a couple weeks," Coulter said with a laugh. "It's something I've been looking forward to for a long time. Montaup is very busy with member and public play, but we don't often get a chance to shine the place up for competitive golf. It was nice to be able to show the asset we have and it was a good opportunity to show off Montaup and have an exciting event."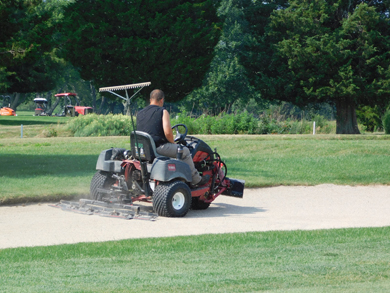 Bobby Leopold, who won his fourth State Amateur championship and second at Montaup, praised the facility after the five-day event. Kevin Silva, who is a former State Amateur champion, is a member at Montaup and he was proud of the event's success on his home course.
"The course is plush and beautiful," he said. "I've heard nothing but good things from the players. The membership was well behind this tournament and it does make me proud we can host a prestigious championship. We were able to showcase this beautiful place we have here. We're all proud of it and I'm lucky I get to play it all the time. Now, other people from around the state get to see this beautiful property."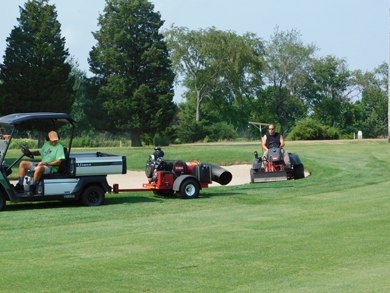 Here's the crew that deserves a lot of credit: Jamie Codega (assistant), Jeremy Lowder, Nick Kershaw, Scott Mederios, Chris Mullen, Josh Simeo, Steve Barboza, Tony Pimentel, Jennifer Valentine-Cagle, Tom Offer and Jim Mederios.
"What makes Montaup special is this crew," Coulter said. "A small crew that woks together as well as they do can accomplish the work of crews twice our size. I'm proud of these guys."
Montaup is a unique property and has some of the best water views in the state. Despite its location, it drains well and can handle inclement weather, which was a challenge on the first and final day of the championship. Still, Coulter and his crew handled it perfectly and play was not affected by all the rain Monday and Friday.
"I was really thrilled with the way everything worked out," Coulter said. "I'm really proud of the crew and the effort they put in. There are a lot of people I don't think know Montaup well and I wanted it to show. I wanted (the golfers) to get the best experience at Montaup. It was good publicity to show what a nice facility we have."
Montaup is always in great condition, but since it was hosting a major championship, Coulter wanted to make sure all the visitors saw the course at its best.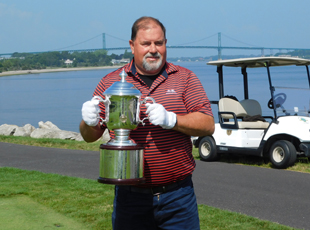 "We certainly do a little more than what we would do for member play," he said. "We start a couple weeks out, all in coordination with the RIGA, when we want to stop cutting the rough and when we want to get more out of the greens. We cut more often and roll more often – twice a day – which is above the normal routine. Just trying to get the greens firmer and faster for that level of competitive play."
Montaup has hosted the Rhode Island Amateur three times – 1996, 2014 and 2023 – and it won't be the last.