By Joe McDonald
RIGA Senior Writer
LINCOLN – It wasn't the first time, and it won't be the last Rhode Islanders watch Olivia Williams and Adriana Eaton compete for major golf titles.
Williams, 16, and Eaton, 15, are two of the best young players in the state and their talents have been on display this year. The two reached the finals of the Rhode Island Women's Amateur Championship before Williams finished with a 3&2 victory Saturday at Kirkbrae Country Club.
"It feels great," Williams said. "Adriana's a great player and it was a really tough match. It felt good to play enough to win."
Williams recently defeated Eaton in the semifinals of Rhode Island Junior Amateur Championship at Ledgemont Country Club and it served as a springboard for this event.
"She's very good," Williams said of Eaton's game. Our careers are "going to be back and forth. I really like her and we're good friends . . . I definitely have to play my best to keep it going back and forth."
Williams becomes the first player to win both the Junior Amateur Girls' Championship and the Women's Amateur Championship in the same year.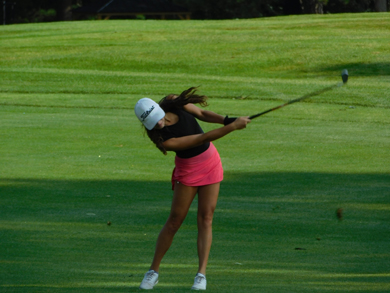 "It means a lot," she said. "They're both the tournaments with the best players in the state, so it means a lot to play good enough to win."
Williams, a rising junior at La Salle Academy, made a great decision to ask Rams assistant golf coach Nick Salvatore, who is a member at Kirkbrae, serve as her caddie.
"She played pretty darn well," Salvatore said. "She maybe missed one, or two shots all day and she just putted the lights out. She was cool, calm and collected all day. If there was a pressure situation, she stepped right up to it – unbelievable. It was really fun to watch."
Even though Williams made all the shots, she still credited Salvatore for his work on the bag.
"He's a great caddie. He's funny, so I don't have to think about golf the whole time," Williams said. "He's great at reading the greens and knows the course really well. It helped me a lot."
Williams was only 2-up thru 12 holes as Eaton started to gain some momentum. That ended when Williams drained a 42-foot birdie putt on No. 13 to increase her lead to 3-up.
"Nick read that perfectly and I had the speed. It was definitely a big putt and I felt like my putting was great today," Williams said.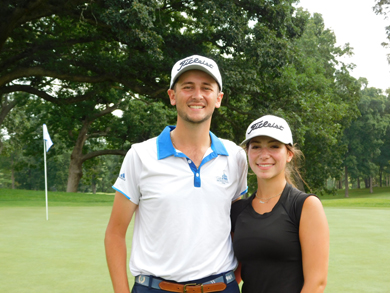 Williams admitted she had a difficult high school season, but she's feeling a lot better about her game of late. It helps when she's the reigning Junior Amateur and Women's Amateur champion. Williams believes her mental game is improving and credits that aspect as one reason she's won a pair of state titles.
"She hits the ball fantastic," Salvatore said. "We saw some rust start to come off through the end of the (high school) season, and now she's firing on all cylinders. It's fun to watch and she deserves it. She's put in a lot of hard work."
It won't be long before we see another major contested between Williams and Eaton. The outcome could be different next time, but Williams is making this summer count.
"I definitely want to win and show my practice is paying off," she said. "It just feels great to win."
SENIOR DIVISION
While the girls dominated the amateur division, the seniors did not disappoint. It's been an incredible week of matches and it finished with Angel Macleod, of Wannamoisett, defeating Melissa Hem, of Point Judith, 1-up.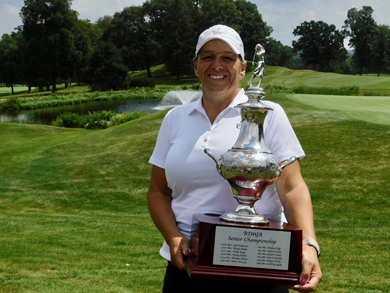 "Pretty good," Macleod said with a huge smile. "I struggled a little bit in the beginning and was 3-down. There were a lot of holes left, so I kept digging."
Macleod recently won the Women's Club Championship at Wannamoisett and carried that momentum into the Senior Amateur Championship.
"I had ups and downs. I didn't putt very well. I have a hard time on these greens. Sometimes they're fast, sometimes they're slow and I have a hard time with them. That was a lot of my issues this week. I had some great competitors, a lot of people supporting me, so it was great," Macleod said.
NET DIVISION
It's always impressive when a local wins on their home course. That was the case for longtime Kirkbrae member Lisa Corrigan, who posted a 2-up victory over Triggs' Trish Labossiere.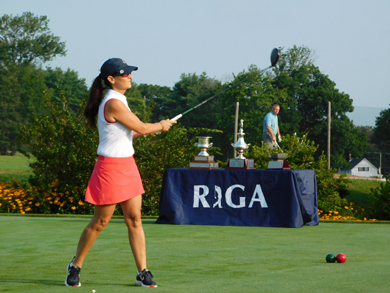 "Crazy," Corrigan said as she fought back tears. "To play with all the different people has been exciting, but it's crazy. It's fun."
As Corrigan sank her winning putt on No. 18, a huge gallery of fellows members celebrated her victory.
It was her first time playing in this event and she plans on defending her title in 2024.