By Dalton Balthaser
PROVIDENCE – Paul Kenyon, the chronicler of Rhode Island golf for close to 40 years, Fred Bruno, the long-time golf professional at Rhode Island Country Club and the Adamonis family who have changed the landscape of junior golf in New England and beyond with the Challenge Cup, headline the 2023 Hall of Fame class chosen by the RIGA.
Two of the greatest players in their respective eras, Harry Kenworthy and Betty Mines will be inducted posthumously.
The dinner, which will serve as the RIGA's year-end banquet will be held at Kirkbrae Country Club. Date, time and ticket information for the event will be released early October.
The Hall of Fame was created in the late 1990s to recognize people from the Rhode Island golf community who have made significant contributions to the game of golf. The charter class was inducted in 2001, with subsequent inductions taking place every two to four years. Prior to this year, 44 people in all aspects of the game have been inducted.
Paul Kenyon is a true Rhode Islander. He grew up in West Warwick and went to the University of Rhode Island. Kenyon spent his life championing sports in his native state through the click of a typewriter and a strong passion for storytelling. He started at the Pawtucket Times, where he covered high school sports. In 1977, Kenyon was hired by the Providence Journal and turned into the publication's Swiss Army knife.

At that time, unbeknownst to Kenyon, it was his passion for golf that would ultimately change the landscape of how it was covered in the state. At the time of Kenyon's move to the Providence Journal, there were two budding golf superstars: Brad Faxon and Billy Andrade, who would help put Rhode Island Golf on the map. But they needed someone to tell their stories to the masses. Insert Kenyon.
"Even though he was young, he seemed to know the sport and ask the right questions," said Faxon and Andrade in the Foreword of Kenyon's book, 'It's about the People, Not Just the Games.' "He was omnipresent. He showed up every week there was a tournament no matter how big or how small or how far away. Paul was more interested in our games and rounds than we did ourselves, and he instantly knew how to translate our feelings and emotions into words."
His byline was always next to golf coverage. Each year, he published a golf section at the beginning of each season for the Providence Journal.
"If you went to any private or public golf course player in the state they knew Paul Kenyon," said Joe McDonald, a longtime colleague of Kenyon's at the Providence Journal. "They respected the heck out of him. He was at every tournament and treated people with the same respect regardless of who they were. Every event he covered, whether it was junior golf all the way to professional golf, he did so with great enthusiasm. That's rare."
In addition, he spent more than 25 years on the Burke Fund's interview committee.
In 2014, he was recognized as the Rhode Island Sportswriter of the Year by the National Sportscasters and Sportswriters Association.
Fred Bruno was first introduced to golf as an eight-year-old caddie at Triggs Memorial Golf Course. That experience gave him the opportunity to study the game by watching members, guests, professionals and amateurs.
He would turn those lessons into success. Bruno won the Rhode Island Caddy Championship at age 14 and the New England Caddy Championship just a few years later.
Bruno's biggest impact came as a PGA professional. He got his start at Alpine Country Club in 1965 as an assistant and spent time at Crestwood Country Club.
In 1971, he started at Rhode Island Country Club, the place that would become his home for the next 31 years. He was an assistant for four years before becoming the head professional. A position he kept until his retirement in 2002.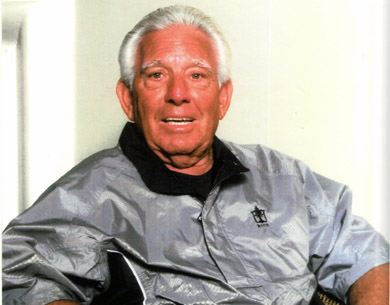 He was a renowned teacher. Some of his students included Brad Faxon, Billy Andrade and Brett Quigley. All members of the Rhode Island Golf Hall of Fame.
"Fred Bruno took me under his wing and taught me a work ethic like no other," said Faxon in Rhode Island Country Club's Centennial Book. "He often arrived at the club at 5 a.m. and then would be the last to leave at 8 p.m. He gave me several golf lessons and some sage advice that I remember to this day."
"A great golf club cannot run without a first-class golf professional," said Andrade in Rhode Island Country Club's Centennial Book. "Fred Bruno was the best. He set the standard for all golf professionals in Rhode Island."
The New England PGA honored Bruno with its first Teacher of the Year award in 1986.
In 1997, Rhode Island Country Club honored his years of service and legacy at the club by naming the practice facility the "Fred Bruno Golf Range."
Adamonis Family: In 1980, Dave Adamonis, Sr. noticed a gaping hole in the New England Junior golf community. There wasn't much of an opportunity for junior golfers to compete in the summer. He decided to take matters into his own hands.
He created The United States Challenge Cup ("Challenge Cup") Junior Golf Foundation to grow junior golf and to give kids in New England chances to develop through the game of golf and in life.

Adamonis played collegiately at Providence College and went on to become the coach of the Johnson and Wales Miami golf team, where he led the Wildcats to eight straight NAIA National Championship appearances, including a 2005 National Championship and the NAIA Coach of the Year designation.
But when Adamonis was diagnosed with cancer in 2005, his oldest son Dave, Jr. took over the Challenge Cup and enhanced the program. In 2022, it ran more than 40 events. Providing countless opportunities for young kids to compete to help them prepare to play collegiately and for life.
Brad, the youngest of the Adamonis brothers, played on the PGA TOUR as a full-time member in 2008-09 with his best finish being a T2 at the John Deere Classic, where he lost in a playoff to Kenny Perry. He won on the Nationwide Tour in 2007 (now Korn Ferry Tour) and was inside the Top 25 on the money list that year to earn his tour card for the first time.
Brad won the Rhode Island Junior Amateur in 1990, qualified for the U.S. Amateur in 1992 and was the medalist in the 1996 Rhode Island Amateur.
Adamonis, Sr. died in 2009, but the Adamonis family legacy still stands in the Rhode Island and New England golf communities through the continued efforts and dedication of Dave, Jr. and the Challenge Cup.
Some of the Challenge Cup's most notable alums include: five-time PGA TOUR winner and major champion Keegan Bradley, two-time Solheim Cup participant Megan Khang, Rob Oppenheim, Jon Curran and former LPGA Tour player and NCAA Individual Champion Anna Grzebien.
Harry Kenworthy used losses in consecutive Rhode Island Amateur finals (1908-09) to motivate him to chase Rhode Island golf prominence.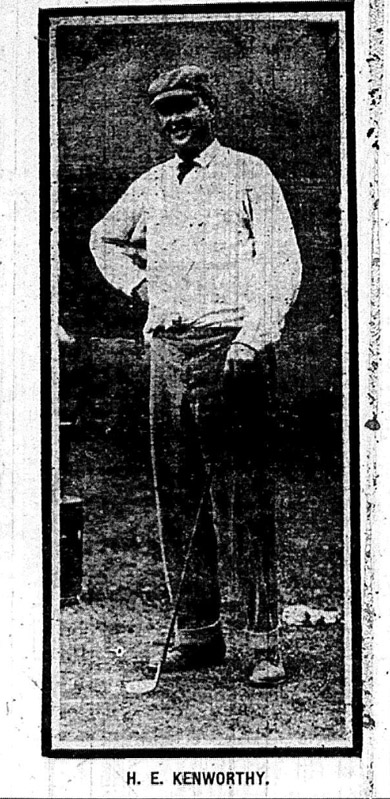 He was the medalist in 1910 at Wannamoisett, where he broke through for his first of three Rhode Island Amateur victories (1910, 1912, 1915). Kenworthy is one of 23 individuals to win the Amateur from gate-to-wire.
Kenworthy cemented himself as one of the best players in his era after defeating Metacomet clubmate and six-time Amateur champion Daniel Fairchild for the 1912 Amateur title at Wannamoisett. His final Amateur title came in 1915 at Rhode Island Country Club, where the Providence Journal declared Kenworthy's game that day "replete with brilliant putting and magnificent driving."
Kenworthy, an underrated and unassuming talent, made a total of eight Amateur finals (1908-10, 1912, 1915, 1924, 1926-27). He is tied with Fairchild for the most all-time. He was a steady force at Metacomet, including four consecutive club championships from 1907-10.
He played in a total of seven U.S. Amateurs (1911-13, 1915-16, 1922, 1928), making match play in 1911 and 1922.
Betty Mines found golf quickly. Growing up in Newport, her father put a golf club in her hand at the age of 4.
Her first taste of notoriety came as an 18-year-old when she nearly defeated Rhode Island Golf Hall of Famer and five-time Women's Amateur champion Betty June Bobel Stapleton in the semifinals of the 1957 Rhode Island Women's Amateur. That same year, she went on to win the Mixed Foursomes with Brad Oxnard.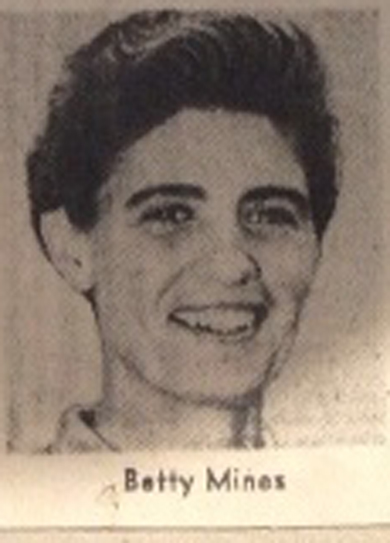 Her first of three Women's Amateur triumphs came in 1959 at Wannamoisett as a junior at the University of North Carolina and member of Wanumetonomy.
On her road to victory in the 50th anniversary of the Rhode Island Women's Amateur in 1964 at Crestwood, she took down 11-time champion Julie Greene, 6&5, in the quarterfinals.
The last of her three titles came in a 2&1 victory over Greene in 1969. Mines was also the stroke-play medalist.
"Betty played superbly and deserved to win," said Greene to the Providence Journal following the 1969 final. "She is a fine person and an outstanding player."
Her third and final title put her in an exclusive club of 14 women who've won at least three Women's Amateur titles.
She competed in two U.S. Women's Amateurs (1963-64), making match play in 1963. She also competed in four U.S. Women's Opens (1960-62, 1966).