Congratulations to Team RI!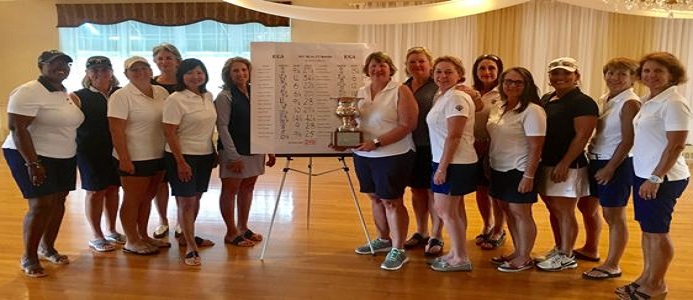 Left to Right: Kay Bullock, Lauren Collins, Angel Macleod, Bette Didonato, Annie Corio, Nancy Diemoz, Deb Cyronak, Kibbe Reilly, Marisa Brown, Lisa Ferrara, Laura Parziale, Jillian Blanchard, Rebecca Blough and Karen Gladney. (not pictured: Nancy Chaffee, Margie Foss, Matison Leand and Janet Field)

Results

Former State Amateur champion Deb Cyronak and Hall of Famer Nancy Chaffee led the way as Rhode Island topped Connecticut, 258-228, in the annual team matches between the states held at Valley Country Club.
Cyronak won an amazing 16 1/2 of a possible 18 points in her individual match and combined with partner Laura Parziale to pile up another 14 1/2. Parziale also won 11 1/2 points in her match.
Chaffee earned 12 1/2 points in her individual match and partnered with Angel MacLeod to win another 12 in the team competition. MacLeod won 10 more in her match.
Other members of the winning team and their point total were Nancy Diemoz (9) and Marge Foss (9) with 9 1/2 in their team match;Kay Bullock (7 1/2) and Jillian Blanchard (9) with 7 1/2 more in the partners match; Marisa White (8 1/2) and Lauren Collins (5 1/2) plus 6 1/2 in the team match; Kibbe Reilly (11) and Betty Didonato (7 1/2 ) with another 9 1/2 in team play; Matison Leand (9) and Janet Field (10 1/2) and 10 more in partners play; Karen Gladney (10) and Lisa Ferrara (9) with 9 more in team play: Rebecca Blough( 5) and Annie Corio (10 1/2) with another 9 1/2 in partners play.
Written by: Paul Kenyon