Rhode Island CC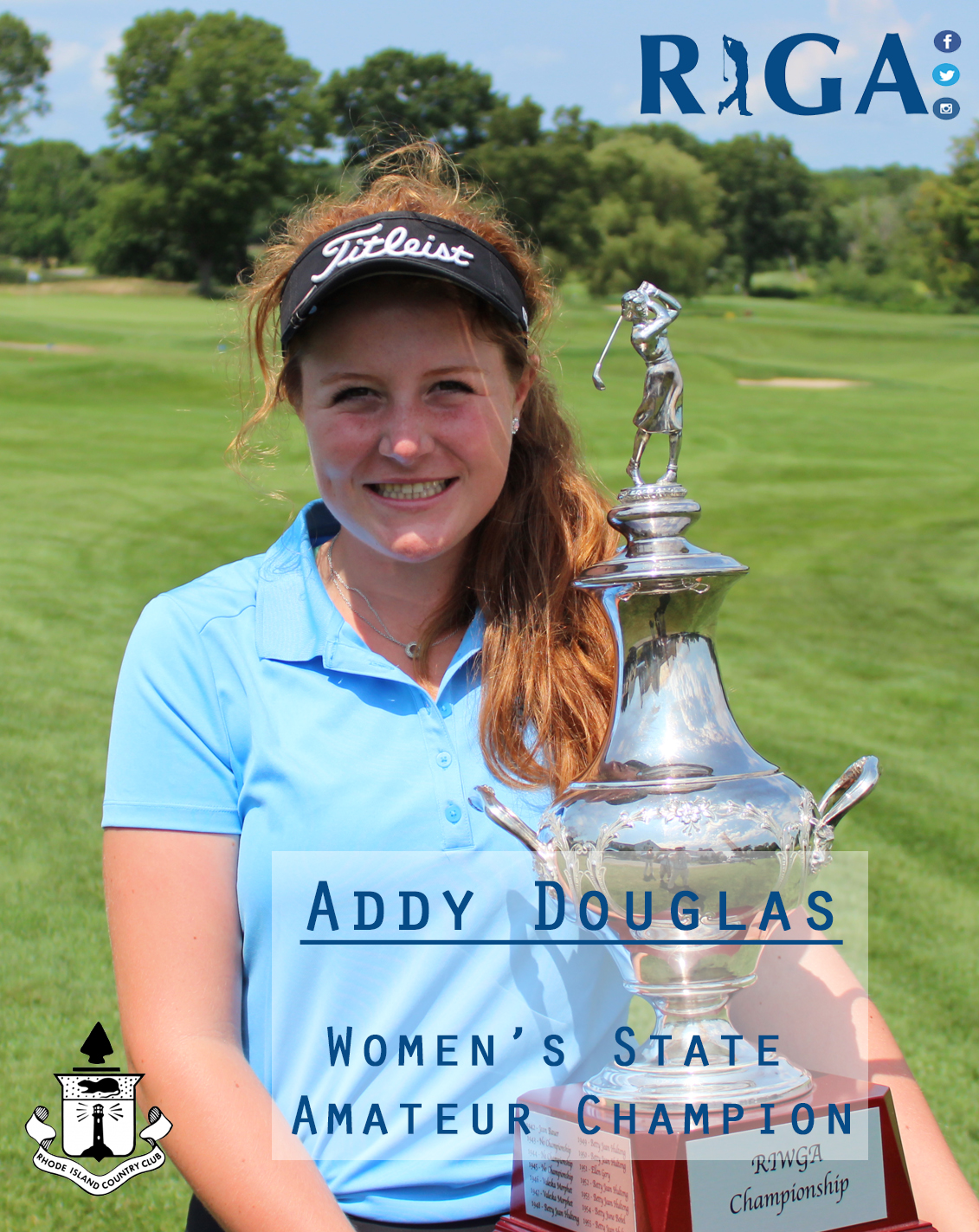 Match Play Brackets

Amateur Championship

President's Bowl

Past President's Bowl
Pairings

Final Pairings

Semifinal Pairings

Quarterfinal Pairings

Round of 16 Pairings

Finals Recap
By Paul Kenyon
BARRINGTON _ The champions in RIGA Amateur events keep getting younger and younger, although the record Addy Douglas set Friday could stand for a long time.
The 16-year-old from Newport Country Club who still has two years remaining at The Prout School became the youngest person to win the State Amateur when she held off Kibbe Reilly, 1 up, in a terrific match at Rhode Island Country Club.
Douglas built a 3-up lead and lost it when Reilly made a host of clutch putts. Douglas went back ahead when she won the 16th before both players parred in. The match was not decided until Douglas made a three-foot par putt on 18.
The result means the record Davis Chatfield set last year, when he won the men's amateur at age 17, lasted only one year. The women's final on a beautiful day along the bay had many similarities to the 38-hole thriller Chatfield had in edging Kevin Silva for the men's title last year. Both were thrillers.
``Coming in I expected nothing,'' the new champion said. ``I think it's pretty cool to say you're the youngest.''
``I would prefer to win, always,'' said the 61-year-old Reilly. ``Honestly, wasn't that a great match?''
``She's outstanding,'' Reilly went on about Douglas, who she had never met until Thursday. ``She's an outstanding golfer and more importantly a really outstanding human being. That kid is great. . . A lot of class, a lot of class. I enjoyed being with her today. It would have been great to have won, but I have a great life.''
Five of the first eight holes were halved. The three holes that were not, 1, 4 and 8 were all won by Douglas, all with birdies. Since Douglas has been the medalist, and had been under-par in winning her semifinal match, it did not look good for Reilly. But the veteran, who has been a contender almost every year for the past 20 years, including reaching the final in 2007, would not go away easily.
She won the ninth with a bird and the 10th with a par to draw within one. The pattern was the same throughout, Douglas with a smooth, flowing swing, would outdrive Reilly by up to 40 yards, but Reilly would play beautifully around the greens, using great work with her putter to make pars.
Douglas won 11 with a par, but Reilly drew back within one when she won 12 with a par. The 13th looked as if it could be pivotal. Reilly made a one-putt par. Douglas nearly got home in two, chipped nicely but missed her short birdie putt and had to settle for a halve. For perhaps the first time in the match, the momentum looked to be on Reilly's side. Reilly did pull even at 15 when she canned a seven-foot birdie putt.
The 16th proved the difference maker. Reilly was about 20 yards short in two on the par-4 but had to pitch over a bunker. She scuffed it into the bunker and made six to lose the hole. The question became whether the 16-year-old could close it out. Reilly forced her to prove it. Douglas showed the poise of a veteran.
``Kibbe made a lot of great putts. Her putting was outstanding all this week I heard. Her short game, everything was awesome and she's such a nice lady, too.''
``I don't think it was that much pressure,'' Douglas said of going to 17 with the lead. ``It would have been pressure if it was all square. I was one up, so there was kind of a safety net.''
Both made par on the picturesque 17, with Reilly narrowly missing her 10-foot birdie putt that could have tied it, a putt she said later she would like to have back. On 18, Douglas again outdrove Reilly by about 40 yards, plus Reilly was in the right rough. But she drilled it out with a fairway wood on the green, about 20 feet left of the hole. Playing quickly as both competitors did all day, Douglas ripped her approach right at the hole, finishing about 10 feet above the cup.
Both two putted for par, giving Douglas the title.
In the lower divisions, Nancy O'Neill edged Patricia LaBossiere, 1 up, for the Past President's Bowl. It was O'Neill's second title in the division. The first was 20 years ago. In the President's Bowl, Patti D'Ambrosio beat Jennifer Hendrick-McCrory, 3 and 2.

Semifinals Recap
By Paul Kenyon
BARRINGTON _ Addy Douglas is competing in the RIGA Women's Amateur Championship for the first time. Kibbe Reilly has been taking part in the event almost every year for the past two decades, certainly before Douglas was born 16 years ago.
The two have never had the chance to play a round of golf together. But they will
on Friday
at Rhode Island Country Club under very special circumstances. The State Championship will be on the line.
Reilly and Douglas won very different semifinal contests to earn the right to vie for the title.
Douglas, the tournament medalist, turned in the best performance of the week, making three birdies in a row in the middle of the match as she turned back Daria Delfino, a finalist last year, 5 and 4. Reilly, meanwhile, survived the closest match thus far in the tournament, losing a three-hole lead to Caroline Farber but then coming back to win on the 19
th
hole.
Regardless of who wins the finals, the event will produce a terrific story.
Douglas is from one of the state's great golf families. Her father, Barclay, is a former RIGA vice president. The longtime official at Newport Country Club has been instrumental in bringing USGA Championships to Newport, the site of the first national championships.
``I love it,'' Douglas said of playing golf. ``He's a big influence on me. . . I couldn't do it without him. And my mom tries to follow along, too and she plays some.''
Douglas has looked like a top prospect for a couple years. She has been an All-Stater for The Prout School was a finalist for the Junior Championship last year where she lost to Allison Paik. She has made clear this week that her game is developing in leaps and bounds. A tall player, at 5-9, she swings smoothly.
``She has one of the prettiest swings I've seen in a while,'' said Nancy Chaffee, who works with the RIGA Junior girls program and who is helping run the event this week.
Douglas has been on target all week, but the 77 she recorded in winning the medal on Monday was merely a warm-up. She was around par in her first two victories and was nothing short of sensational in her win over Delfino. The two halved the first three holes with pars before Douglas took the lead with a bird on the downhill par-4 fourth.
After the fifth was halved with pars, Douglas won the sixth with a par to go 2-up. Delfino came back with a bird of her own to win the seventh hole and pull within one. Douglas responded with a Major League display, with birds on 8 and 9, both par 5s, and then with still another, this time a deuce on the par-3 10
th
.
One more bird on the 13
th
built Douglas' margin to 5-up so that when the 14
th
was halved, Douglas had the 5-and-4 decision.
Reilly had to work much harder. She and Farber staged an excellent battle. Only three holes were won on the front side, all by Reilly, the fifth with a bird and the seventh and ninth with pars.
Farber, a two-time Junior Champion who will be a sophomore at Bowdoin in the fall, fought back. She won 10, 12 and 16 to square the match. Reilly made a deuce on the pretty par-3 17
th
, even with a difficult pin placement at the back of the green. Farber needed to win 18 to stay alive and she did, hitting two terrific shots to 10 feet. Her birdie putt lipped out, but her par was good enough to win the hole and force overtime.
Reilly made routine par on the first extra hole while Farber took three to get down from the fringe, to send Reilly into the title match. Reilly has been a contender every year and reached the final in 2007 before losing to Valerie Blinn.
``This means so much to me,'' Reilly said of her work this week. ``It would mean a lot to me anywhere, but it means even more here.''
Reilly, who owns an event planning business, was a member at RICC for about 20 years. It was at RICC where she learned to both play and enjoy the game through long time pro Fred Bruno and Hall of Famers Chaffee and Julie Greene.
``I thought of Fred Bruno and Julie Greene while I was out there today,'' Reilly related. ``They were such wonderful people and they're no longer with us. After one of my shots, one of the good ones, I could hear Fred saying ``Thank you,'' because that's what he said when you hit a good one.''
Reilly, who is 61, joked that playing Douglas will be interesting because ``I have grandchildren who are older than the girls who were playing here today.''
Not only have they never played, Reilly and Douglas had not met until
Thursday
.
``I've heard about her, but I've never met her,'' Reilly said as the two were introduced.
Quarterfinal Recap
By Paul Kenyon
BARRINGTON _ Kibbe Reilly walked into the Rhode Island Country Club clubhouse and headed over to the scoreboard for the RIGA Women's Amateur Championship. One quick look told her what was happening.
``So I guess it's me and three of the young kids,'' Reilly said.
``That's it,'' responded Katie DeCosta, the RIGA's director of women's golf.
``Well,'' Reilly responded without hesitation, ``I'm young at heart.''
Reilly prevented a sweep by the high school and college-aged players by firing her way into the semifinals on Wednesday, eliminating another of the veterans, her good friend Margie Foss, 5 and 4.
The other three semifinalists all are less than half Reilly's age. Addy Douglas, Caroline Farber and Daria Delfino all played well on what was the best day yet for scoring, even with the breezing picking up off the bay.
Douglas, the medalist, had her strongest performance yet, going even par on the front nine on the way to a 5-and-3 triumph over Matison Leand. Farber, the second seed, was even better, going out in 2-under, with two birdies and an eagle, on the front side in overpowering Laura Parziale, 8 and 7. Delfino, a finalist last year, had the toughest battle, holding off Angel MacLeod, 2 and 1.
While the three youngsters are getting better all the time, Reilly is the veteran who keeps rolling along. She already has won the RIGA Stroke Play this summer and with her performance here has clinched a spot on the three-player team that will represent Rhode Island in the USGA State Team competition in New Mexico.
This event is special for her, though, because while she has been a constant contender for the past two decades she has yet to win the title. She has been awesome in the first two rounds of match play. She did not lose a hole in her first-round victory over Cyndy Bersani. It took 13 holes in the quarterfinals before she lost a hole and then it came when Foss birdied the 13th.
Reilly had broken the match open with back-to-back birdies on the fourth and fifth holes. She was 5-up by the turn and just kept running off pars until she had the victory.
Her opponent in the semis will be the red-hot Farber. Farber just finished her freshman year at Bowdoin where she became the first Bowdon women's golfer ever to win New England Small College Athletic Conference honors. The two-time RIGA Junior champion, who excelled on Moses Brown's co-ed state championship team, birdied the fourth and seventh holes and then eagled par-5 ninth.
The top half of the bracket will see Douglas, who will be entering her junior year at The Prout School, against Delfino, who is coming off an excellent sophomore season at Loyola of New Orleans.
Douglas was all square through six in her match against Leand, each having won two holes, before Douglas went par, par, par, birdie, par from 7 through 12 and won all five holes.
Delfino and MacLeod were even through seven, each winning twice before Delfino won the even holes, 8, 10, 12 and 14, and held on from there for the spot in the semis for the second year in a row.


Round of 16 Recap

By Paul Kenyon

BARRINGTON _ The top eight seeds all advanced through the first round Tuesday in the RIGA Women's Amateur at Rhode Island Country Club, a group that includes the medalist, the reigning player of the year and a mother-daughter duo.
Addy Douglas, the medalist, won six holes in a row in the middle of the match as she beat Lauren Dohoney, 6 and 4.
Laura Parziale, the 2016 player of the year, pulled away on the back nine in a 5-and-4 victory over Bette DiDonato.
Perhaps the best story of the day, though, was having Margie Foss and her daughter, Matison Leand, both survive tight matches. Foss got past Amanda Lupino, 3 and 2. She built a 4-hole lead and saw it cut to two when Lupino won 13 and 15. Foss parred 16 to close it out.
About the time she was doing that, her daughter, Leand, was back at the pro shop cleaning her clubs after earning the win in the tightest match of the day, 2 and 1, over Nancy Diemoz. The result does not go down as an upset since Leand is the eighth seed and Diemoz the ninth seed. However, based on past results, Diemoz might have been favored since she has been among the best players in the state for years.
Leand, on the other hand, attends Wittenberg University in Ohio and has not competed nearly as often in RIGA events. She and Diemoz went back and forth. Each took a turn on the lead and they were tied through 10. Leand won 11 and 13 to go 2-up, Diemoz took 14 to pull within one. Both parred 15 and 16 before Leand won 17 with a par to wrap it up.
``It was a really good match,'' Leand said.
The good news for her family was that she and her mother are on opposite sides of the bracket. They cannot meet unless both get to the final.
``That's the first thing we checked,'' Leand said of the possibility of having to play her mother.
Mother and daughter both face huge challenges in the quarter-finals. Leand must go against Douglas, the medalist, while her mother draws Stroke Play champion Kibbe Reilly. Reilly overpowered Cyndy Bersani, 8 and 7, without losing a hole.
Daria Delfino, a finalist last year, got past Nicole Krause, 5 and 3. Delfino was only 1-over-par as she built a 4-hole lead on the front side. She will face Angel MacLeod, who had the day's biggest really. Janet Field won each of the first three holes against MacLeod. MacLeod's response was to go par, par, par, eagle over the next four holes to take the lead.
Field staged a rally of her own, going 1-up through 11 before MacLeod won four holes in a row to take a 3-and-2 decision.
Perhaps the featured match on Wednesday will pit Caroline Farber, the number two seed, against Parziale, last year's player of the year. Farber, the two-time Junior Champion, defeated Lisa Clark, 7 and 6, a contest in which only one hole was halved.
Parziale was only 1-up through eight against DiDonato but then won four of the next six to win, 5 and 4.
Qualifying Recap

By Paul Kenyon

BARRINGTON _ There were years _ many years, actually _ when Addy Douglas would not have been allowed to compete in the 2017 RIGA Women's Amateur Championship.
Douglas is 16 years old, with two years left at The Prout School. The old RIWGA required that players had to be 18 to compete in the Amateur. Hall of Famers like Julie Greene and Nancy Chaffee had to wait their turn, as did players like Kim Augusta and Anna Grzebien, who went on to play professionally.
Thankfully, the rules have been changed to allow anyone capable to compete, as long has been the case in many other states. Douglas on Monday became the latest to show that players do not need to be 18 to excel. The All-Stater, who plays out of Newport, got off to a great start on the way to a 4-over-par 77 to win medalist honors on a glorious, three-bridge day at Rhode Island Country Club.
Douglas was 3-under par for 13 holes, thanks to an eagle on the par-5 13th, so that not even a couple double bogeys down the stretch could keep her from capturing the medal. She finished two strokes better than one of her playing partners, Agawam Hunt's Caroline Farber.
Farber, a four-time All-State at Moses Brown and two-time RIGA Junior champion who just completed her freshman year at Bowdoin, had a 79 that was the opposite of Douglas. She struggled at the start before coming home in even-par 36. It included three birds on the back side, the last on the closing hole.
Kibble Reilly, who already has won the RIGA Stroke Play Championship this summer, earned the third seed with an 80. Her round included an eagle on the par-5 11th, when she holed out a wedge from 110 yards.
It took a score of 88 to earn a berth in the 16-player championship division. Match play begins Tuesday and runs through Friday's championship final in three divisions.
The tournament figures to be more wide open than ever. Susie Cavanagh, who won two of the last three years, has stayed out in Oregon where she just finished a good first-year playing for Oregon State. In a rarity, only one player who has ever won the title is taking part. That is Marisa Brown, who has changed colors since she won. She was Marisa White when she won in 2010 but now is Marisa Brown.
Douglas earned the top spot with a strong performance. She went out in 38, which is even par for the women. When she began the back side par, par, birdie, eagle, she was at 3-under. She got home in two on the par-5 13th, then rolled in a 20-footer for the eagle. While she has long since given evidence that she is a top prospect, standing 3-under on the 14th tee is not something she is accustomed to just yet.
``A little bit of both,'' she said when asked if problems at the end came from fatigue or thinking about what she was doing.
She had two bogeys and two doubles coming home, one of the doubles coming at 18 where she had bunker problems.
Farber was making birdie on that same hole for her 79. Farber became the first Bowdoin player ever to earn New England Small College Athletic Conference awards this year. She was named to the second team.
She opened the season winning the Maine State Championship behind a two-day total of 148. Farber posted back-to-back top-10 finishes, including seventh at the 2016 NESCAC Championship to close out the year.